ONE MOTORSPORT WITH STARLINE RACING AIMING TO FLY HIGH IN SCOTLAND'S BTCC SHOWPIECE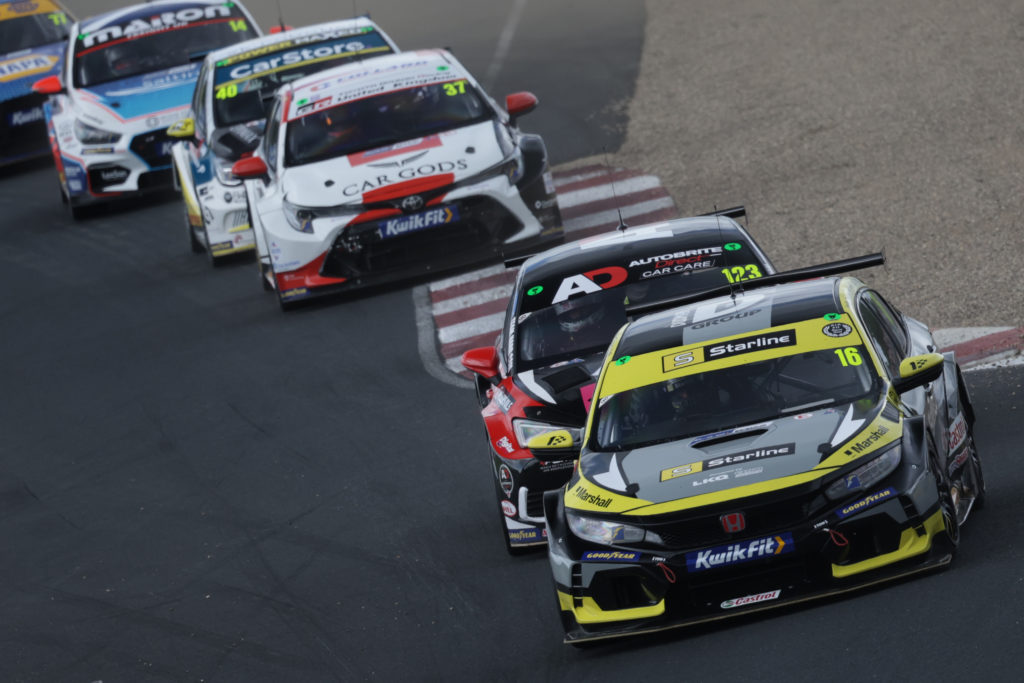 All three One Motorsport with Starline Racing drivers are aiming for landmark results as the Kwik Fit British Touring Car Championship makes its trip to one of the most spectacular venues on the calendar at Knockhill in Scotland this weekend.

The meeting on the 1.30-mile circuit, which is etched onto the side of a mountain in Fife, always provides drama and the trio of Honda Civic Type R battlers are keen to attack the swooping layout over the three races on Sunday.

The meeting will be particularly memorable for Aiden Moffat, who made his debut in the BTCC 10 years ago at the same venue and the Dalkeith driver is on the front foot after a competitive weekend last time out at Croft in North Yorkshire.

He is pushing to break into the top 10 of the overall points and consolidate his second place in the Independents' Trophy behind team-mate Josh Cook. Jade Edwards will once again be in the sister car aiming to make more progress after a feisty return to One Motorsport with Starline Racing at Croft where she only just lost out on a points-paying finish.

Moffat said: "It is always special coming home – whether the race was in Aberdeen or Inverness, it would always be the one I looked forward to the most. Knockhill is the track where I got my first podium in the BTCC and also where I first raced a touring car, so it has some very happy memories for me.

"The track itself is certainly one of the most enjoyable on the calendar. The opening stretch from Duffus Dip through to the chicane is one of the most demanding on any of the circuits we race on, and it always puts a smile on your face when you get it right.

"The fans are overwhelming too," he added. "Most of the other drivers are English and they have nine home rounds a year, whereas I only get one. But it is a delight to race in front of the home fans and they give me tremendous support. I want to land some results to make them proud."

For Cook, the aim is to bank overall victories to cement his challenge in the top six of the points table. He also has a huge buffer at the top of the battle for Independents' honours, but he says individual round wins are his main focus.

"We are coming off the back of a really strong showing at Croft with a third, fourth and fifth and we took a relative step forward," says Cook.

"We have previously run competitively at Knockhill too in 2021. That means we are heading north of the border in a confident place. We need to keep focusing on ourselves and try to earn those strong results.

"In a way, the overall championship is going to be a big uphill battle for us, so the sole objective now is to go for those outright wins and that is firmly in my crosshairs this weekend. Given the sniff of an opportunity, we will be going for it."

Edwards' return to the One Motorsport with Starline Racing squad two weeks ago showed much promise and she is aiming to capitalise on that with more mileage in the car under her belt and going to a track she enjoys.

"I am feeling positive and want build on what we learned in my opening weekend back with the team at Croft. From the outside looking in, it wasn't spectacular but there were some reasons and teething issues behind that," she says.

"Race three really showed us what foundation we have with the car and it was the best result that particular car had had all season up to that point, and it was only my third race back at the wheel with One Motorsport with Starline Racing. I know that when everything slots into place and we don't get pulled back for reasons which are out of our control then we should be able to hit the ground running.

"Although Knockhill is a track where I have done the least amount of laps – this will only be my third time there in my career – it is somewhere I have always enjoyed. It is a challenge because it is such a short lap, there is so much going on.

"With Aiden being in the crew, the atmosphere for his home race will be great and I think are going there with a very happy and positive environment."

Rounds 19, 20 and 21 of the 2023 Kwik Fit British Touring Car Championship take place on Sunday and all three will be shown live on ITV4.

The opening round is scheduled to begin at 11:45, with the second at 14:40 and the reverse-grid finale at 17:20. The 45-minute qualifying session will be broadcast live on itv.com/touringcars at 15:15 on Saturday, and will also be streamed on the ITV Sport YouTube channel.
---