ONE MOTORSPORT WITH STARLINE RACING CLINCH BTCC INDEPENDENT TEAMS' TITLE AT BRANDS HATCH FINALE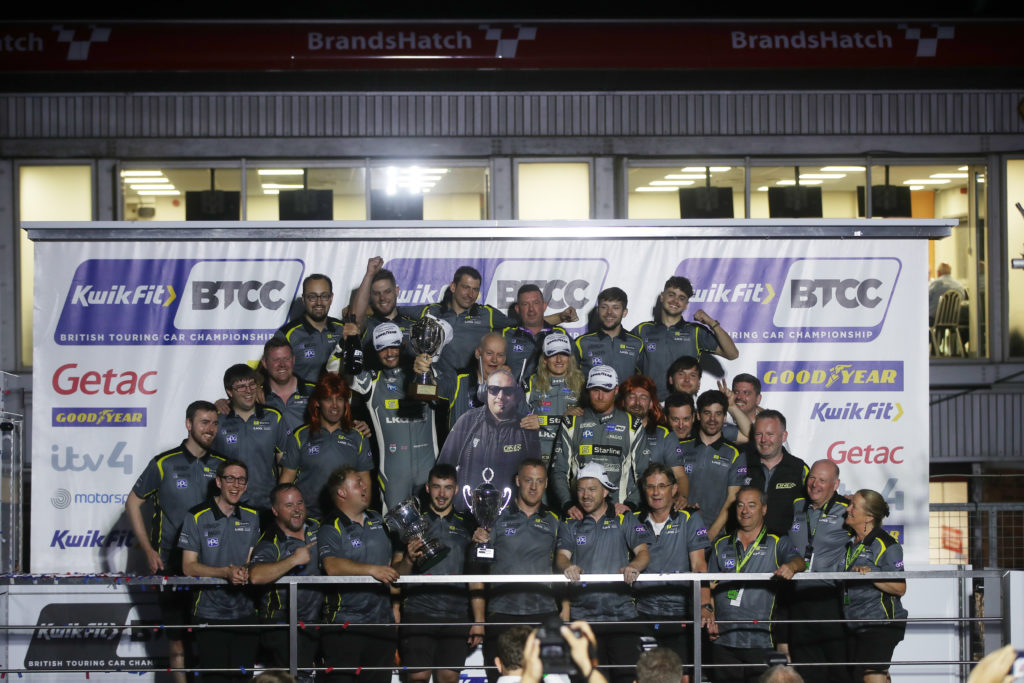 One Motorsport with Starline Racing brought the curtain down on its 2023 Kwik Fit British Touring Car Championship season in style at Brands Hatch this past weekend (October 7/8) as they successively retained their Independent Teams' title.
On what proved to be an action-packed finale around the Grand Prix circuit, the Brackley-based squad – spearheaded by Josh Cook, Aiden Moffat and Jade Edwards – produced a battling performance to clinch the coveted crown for a second consecutive year.
It closed out a rollercoaster campaign for the Honda Civic Type R outfit, albeit one that was ladened with silverware; with no less than six overall podiums and 16 Independent victories being chalked up.
Arriving at the Kent venue having already wrapped up the Independent Drivers' title, Cook – as he has done on many occasions this year – took on a starring role on Final's Day as he charged onto the podium in the last race.
Eager to bounce back from a lowly qualifying, the 32-year-old hustled his front-wheel-drive machine up to 12th in race one before making further progress to seventh in a frenetic second encounter.
Starting from third for the reverse grid finale, Cook then delivered a sensational drive as he valiantly battled for the lead, all while battling rising engine temperatures after being forced onto the grass early on.
Despite throwing everything at eventual race winner Jake Hill, the Bath racer concluded his season with a second place finish, which in-turn cemented his position in the top five of the overall standings.
"I think we had the pace to win race three but we picked up some grass early on which caused the engine to start overheating," Cook explained. "I'm surprised we made it to the finish because we were one degree away from having to bring it into the pits.
"I am pleased to have finished second though. The car was the best it has felt all season; it's just that lack of engine performance from the grass that prevented us from really taking home a result that the entire team deserved.
"Overall it's been a tough season but I'm incredibly proud and grateful to have spent it with such a good bunch of people – they've all had to dig deep on a number of occasions. We go into the off-season as Independent Drivers' and Teams' champions so we'll regroup, have a rest and then come up with a plan of attack for 2024!"
Moffat – who was celebrating his 300th start in the UK's premier motorsport series – endured a frustrating end to the campaign as he saw his pace go unrewarded.
After qualifying in 20th, the Scotsman was forced to pit with a turbo boost pipe issue in race one which dropped him a handful of laps down. Starting at the back of the grid for race two, the four-time race winners showed his class as scythed up the order to take the chequered flag in 11th.
Unfortunately, Moffat's milestone race was ended in just a handful of corners after contact at Druids broke his front right suspension, however his contribution over the course of the season in capturing the Independent Teams' crown cannot be overstated.
He said: "It was a difficult end to the year, that's for sure. In race one we had an issue which forced us to pit but then in race two the car came alive and felt brilliant; I really enjoyed just charging up the order and to get to 11th was great.
"I did sort of think that we might be on for a good result in race three but we were taken out at Druids and that was that. We ended up finishing with a beer instead of some points.
"To come away with two titles is a nice result for all the effort that everyone at One Motorsport with Starline Racing has put in this year. They've worked non-stop to try and get us to the front and they deserve a lot of credit for that."
Unfortunately there was heartbreak for Edwards as her strongest outing of the season yielded little return. Fighting back from a tough Saturday, the third generation driver made progress in races one and two to set up a tantalising reverse grid performance.
Starting in 17th, Edwards showed her class by charging up to 11th and looked to be on course to claim a career-best finish and her first points of the season before unavoidable contact from a rival car cruelly robbed her.
"What a day," Edwards lauded. "We were on the attack, moving forward in all three races but it wasn't to be. We started race one on the back row – which wasn't where we wanted to be – but we managed to fight our way up to 19th.
"In race two we were running as high as 15th I think before some contact sent us tumbling back; although we were able to recover to 17th. Then race three was just unbelievable! We went from 17th to 11th and we were running comfortably inside the points before we were taken out up at Druids by a driver that had brake failure.
"It's bittersweet because as nice as it was to be running on the fringes of the top ten, I'm absolutely gutted about the final result. I don't know what I've done in life to not get that result. We'll regroup though and hopefully can come back next year."
The Kwik Fit British Touring Car Championship returns in 2024, with the opening three races of the new season scheduled to take place at Donington Park on April 27/28.
---