ONE MOTORSPORT WITH STARLINE RACING LOOKS FORWARD TO A PARTY IN THE PARK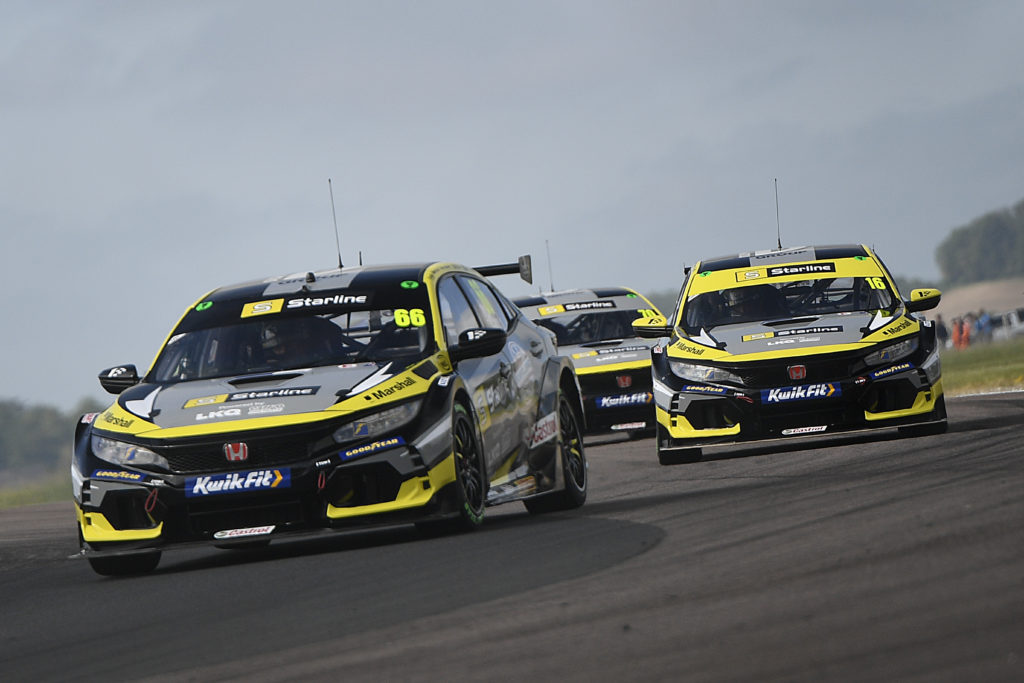 All three One Motorsport with Starline Racing drivers are approaching this weekend's fifth event of the 2023 Kwik Fit British Touring Car Championship at the picturesque Oulton Park circuit this weekend with relish after a trophy-laden meeting last time out.
At Thruxton 10 days ago, One Motorsport with Starline Racing's Josh Cook scooped two podium finishes and they were capped with two victories in the Independents' Trophy division, while team-mate Aiden Moffat underlined his progress with his maiden rostrum of the season in the final event in Hampshire. Will Powell continued his learning process with the team's Honda Civic Type R, and all three are relishing the prospect of returning to action in Cheshire over the weekend.
Cook said that this weekend's three rounds were chance to take another step towards the top of the podium on a track which rewards a strong-handling car and driver bravery. The 2.26-mile parkland track features elevation changes and some challenging high-speed corners.
Cook says: "Oulton Park is always a track which I look forward to going to. The corners are demanding and a strong chassis – plus some bravery – means it is a real test to nail a quick lap time. We are understanding more and more about our One Motorsport with Starline Racing Honda, and that was clear with two podiums at Thruxton.
"Now we are going on to a track which is a different type of challenge. The team has worked relentlessly to find those last little bits of performance in the engine and chassis, and that effort is beginning to pay off. This weekend will give us another chance to underline that, and I am really looking forward to putting on a great show for the fans."
Moffat's strong weekend at Thruxton delivered three points-paying performances and he has now vaulted into second place in the race for the Independents' Trophy for drivers. He sits just below table-topper Cook.
The Scotsman, who scored a podium finish at the equivalent meeting last season, says that Oulton Park is a track he looks forward to. "It is a brilliant circuit that can really pay dividends if you put it all on the line. It is not for the faint-hearted," says Moffat.
"I like tracks where you can attack, and I can't wait to get back into my One Motorsport with Starline Racing Honda. The steps forward we made with the car at Thruxton have given me a real sense of optimism and I think we are moving in the right direction.
"I must say a huge thanks to the entire crew, who haven't let up in their quest to help me settle into the team and get to a place where I can extract the most from it. Given our upward trajectory, I think that some really exciting results are in the pipeline."
Will Powell was knocking hard on the door of a points finish at Thruxton before being the innocent victim of an accident in race two. He thinks that this weekend could be a breakthrough for him in the Kwik Fit British Touring Car Championship.
He says: "There is no doubt the last round at Thruxton was a challenge for us. But we are looking ahead and we are going to Oulton Park, which is one of my favourite tracks and it is always one to look forward to.
"The season hasn't gone the way I have wanted it to so far, but we are all working hard and hopefully our fortunes will change this weekend."
Team principal Danny Buxton knows that the rounds at Oulton Park – which take place just before the Kwik Fit British Touring Car Championship's mid-season break – will be crucial and offer a good chance to shine a light on the graft the Brackley-based One Motorsport with Starline Racing crew have put in over recent weeks.
Buxton says: "Oulton Park is a real drivers' racetrack, you can really make a difference here if you know the place well and are prepared to commit. I'm looking forward to a true test of progress for us. Bring it on, our boys are all guns blazing for the weekend!"
The fifth meeting of the 2023 Kwik Fit British Touring Car Championship takes place on Saturday and Sunday this weekend. The qualifying session, which is scheduled to start at 15:40, is streamed live on the itv.com/touringcars website and is also broadcast via the ITV Sport YouTube channel.
The races are due to kick off at 12:17, 14:40 and 17:25. The whole day's racing action will be broadcast live on ITV4, while the main ITV1 channel will show the opening two rounds with a programme which goes on air at 12:00 and runs through to 14:05.
---