SNETTERTON UP NEXT FOR ONE MOTORSPORT WITH STARLINE RACING TOURING CAR BATTLERS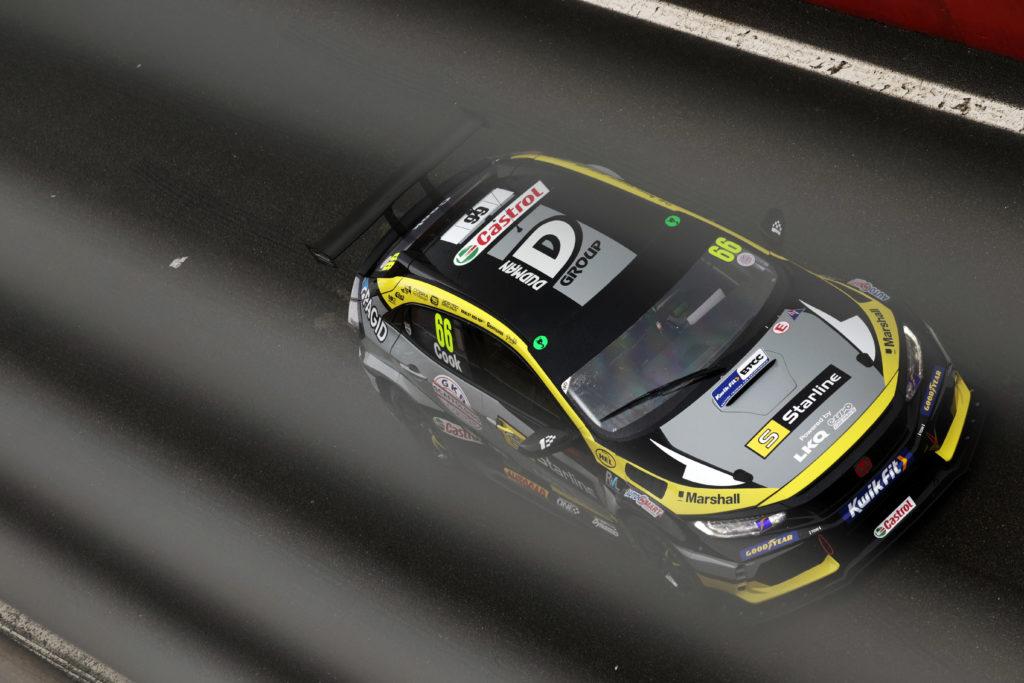 This weekend's third meeting of the Kwik Fit British Touring Car Championship at Snetterton in Norfolk will present the One Motorsport with Starline drivers with one of their toughest challenges of the season.

The demanding 2.96-mile track, which was significantly reworked in 2011, is one of the most tortuous on the 2023 meeting schedule. It packs in long straights, heavy braking zones and 12 corners into the two-minute lap. It is also one of only two events this season where the BTCC races will use all three types of Goodyear tyre: the soft option, the medium and the harder rubber.

One Motorsport with Starline Racing drivers Josh Cook, Aiden Moffat and Will Powell are looking forward to taming the challenge in their revamped two-litre turbocharged Honda Civic Type R machines.

Reigning BTCC Independents' Trophy holder Cook is inside the top 10 in the standings heading to the Snetterton races, and he believes that the team can make further steps towards the front and open his win account for the season.

Cook says: "Snetterton is one of the most demanding circuits on the schedule because it offers every kind of corner – both high and low speed – and it also has some flat-out sections. That means it is always a compromise on the set-up, and this is where the homework that the One Motorsport with Starline Racing crew has put in can reap rewards.

"As well as having strong power, the key to a good lap time at Snetterton is a strong chassis, and that is where our Honda Civic FK8 really scores. We have an updated car this year and I am confident that we can apply our brainpower to extract the absolute maximum from it."

Moffat was a double points scorer at the previous meeting at Brands Hatch and says he is becoming more confident on his return to a front-wheel-drive BTCC car.

The four-time race winner says: "We are taking steps forward each time we get in the car each weekend has been interrupted by the good old British weather, which has made them meetings which are difficult to judge.

"I'd like a clean run at it this weekend at Snetterton with a chance to apply all the lessons we have learned so far. I have gelled well with the One Motorsport with Starline Racing team and have been impressed with the work ethic among the staff and I would love to repay that with some big performances this weekend.

"We need to get the car to the front and the staff back at base have been working long hours to give us the best machine possible, and I owe them a huge thank you.

"We are using all three specifications tyres this weekend for the first time, and I am looking forward to that throwing some interesting strategical options into play. Nothing stands still in the BTCC…"

Will Powell took part in his first BTCC meeting at the venue late last year, and he is keen to build on his experience this weekend with point firmly in his sights.

The Birmingham racer said that potential he had shown at Brands Hatch was ready to be turned into profitable results. "We have been knocking on the door," explains Powell, "and I am delighted to be going to Snetterton, which is a track I really enjoy.

"We had some small problems with the turbo boost last time out, and the team has worked hard to give me the best chance at Snetterton. My aim is to put together a solid weekend performance – through qualifying and into the three races on Sunday – and the pace I have had so far shows that we are capable of breaking into the points-paying positions," added Powell.

Team principal Danny Buxton said that One Motorsport with Starline was aiming to climb even further up the order over the course of the three races in East Anglia.

"The first two race weekends haven't gone to plan. We set ourselves exceptionally high standards and have been disappointed with the performances thus far," he explains. "With further development carried out internally since Brands Hatch, I'm confident we've made a step forward; but we'll only know how far when it comes to the opening free practice session on Saturday…"

The Kwik Fit British Touring Car Championship is broadcast live on ITV4. The opening round on Sunday is scheduled to kick off at 11:25, the second at 14:35 and the weekend's finale at 17:15. The qualifying session, which will take place at 15:40 on Saturday, will be streamed live on itv.com/touringcars and is also shown on the ITV Sport YouTube channel.
---