DONINGTON DEBUT FOR ONE MOTORSPORT WITH STARLINE RACING AS EXCITEMENT BUILDS FOR 2023 BTCC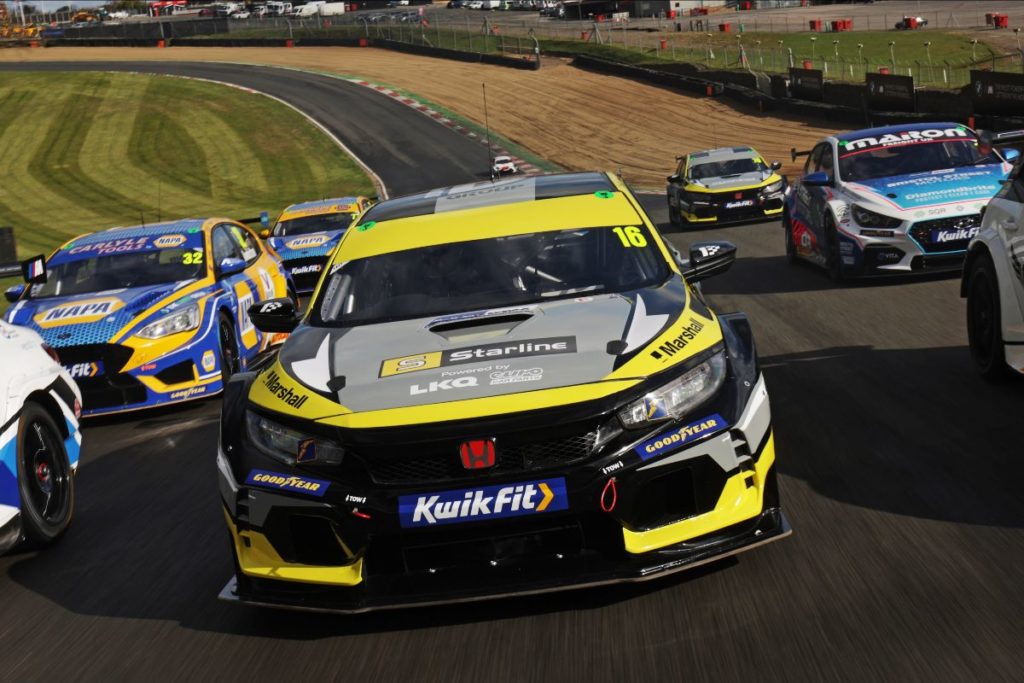 One Motorsport with Starline Racing is raring to go ahead of the opening rounds of the 2023 Kwik Fit British Touring Car Championship at Donington Park this weekend as the squad enters the next chapter in its successful history.

The Brackley-based team will field a trio of Honda Civic Type R machines with Josh Cook, Aiden Moffat and Will Powell at the controls throughout the 30-race campaign, which kicks off with three showdowns on Sunday afternoon.

Over the winter, the One Motorsport with Starline Racing staff have meticulously prepared the three Japanese cars and each has been fitted with new Neil Brown Engines-tended two-litre turbocharged powerplants. The team will also field fresh chassis in this year's contest and has been busy preparing its revamped attack.

Cook, who won five races last season and was a protagonist for the overall crown, has a strong record at Donington Park and has finished on the podium at the East Midlands venue on four of the BTCC's last five visits. The 2022 Independents Trophy winner also claimed his maiden win in the tin-top series at the track in 2018.

The Bath flier says that he is aiming for consistently strong points across the opening rounds. "We have had three really strong back-to-back days of testing in the build-up to the season, and that has put us in a really good place," he reveals.

"I have a car which is brand new to me this year and it feels so strong. I am quietly confident, but we are yet to really see where everyone else is at.

"It is hard to know if you can turn up to the opening round and blow the doors off everyone, but we have done everything we possibly can as a team. There has been no stone unturned back at base. I know it will be about being consistent and keeping that points tally ticking over during the early rounds. We need decent points everywhere and we will be grabbing any chances that come our way."

Moffat is a new recruit to the team but has proven race-winning pedigree. The Scotsman has four victories to his credit and he too has enjoyed a win at Donington Park when he prevailed in 2017. He says he has settled in well at the One Motorsport with Starline Racing squad and is aiming to build on his experience in what will be a new car to him.

The 26-year-old says: "From the limited testing I have done already, I can tell I am comfortable in the car and I have been really impressed by the professionalism of everyone at One Motorsport with Starline Racing. The car is a new environment for me, but I feel like it is a chassis I can extract a lot from, and the team is all pulling in a great direction so I can get to that point.

"There is a lot for me to learn with a return to a front-wheel-drive BTCC car after a few years in rear-wheel drive, but I am already confident that I will be able to push it to the limits," he adds. "The opening meetings are going to be about aiming for some solid finishes and then I will have a platform to develop from there."

One Motorsport with Starline Racing's commercial boss Powell is entering his second season of the BTCC and is optimistic that he can build on his knowledge from the part-year he contested in 2022 and also learn from his rapid team-mates.

Powell says: "It is a new chapter for the team and for me in the BTCC, that's for sure. There will be pressure on me because we have the tools and I have the environment to perform. We have been through our test programme with the new engine and the new operation and there has been lots of work in the background to get us ready.

"I am going to Donington with my eyes fully open and ready to learn as much as I can I have a world-class team-mate in Josh who is helping me along the way, and Aiden has plenty of experience to share too, so we can move forward together. I need to build on my knowledge of the car, and I am aiming for three solid races to give myself a footing for the rest of the season."

Team principal Danny Buxton says there is a huge amount of anticipation within the squad and he paid tribute to the hard-working One Motorsport with Starline Racing staff, which has been working flat-out ahead of the opening rounds of 2023.

"Both Steve Dudman (One Motorsport team owner) and I have been blown away by the work of Paul Hartley, who leads the technical team at our HQ in Brackley, and his crew because they have had limited time to prepare our reworked Hondas," says Buxton. "The hours they have put in have been phenomenal and I take my hat off to each of them – they are such a committed bunch and I am very grateful to each of them.

"We are excited about the switch of engine and that has led to us having to repurpose and repackage a lot of things around the new powerplant. There has been a redesign and it has taken a lot of time …and a huge amount of effort getting us ready for Donington Park"

Buxton adds that poor conditions had stymied some pre-season running, which means that Donington Park this weekend will be something of a journey into the unknown.

"This weekend, we need to improve our understanding of the car and play around with what we have got," adds Buxton. "Hopefully out of that, at the end of the weekend, we can have some sensible points finishes which will then set us up to go on the front foot at Brands Hatch on May 6-7."

All three races from Donington Park on Sunday will be broadcast live on ITV4. Race one is scheduled to kick off at 11:30, the second event is at 14:40 and the weekend's finale gets the go ahead at 17:25. Saturday's qualifying session, which starts at 15:40, will be streamed live on the ITV website.
---