ONE MOTORSPORT ENJOY BRITISH GT AWAY DAY WITH POINTS IN PORTIMAO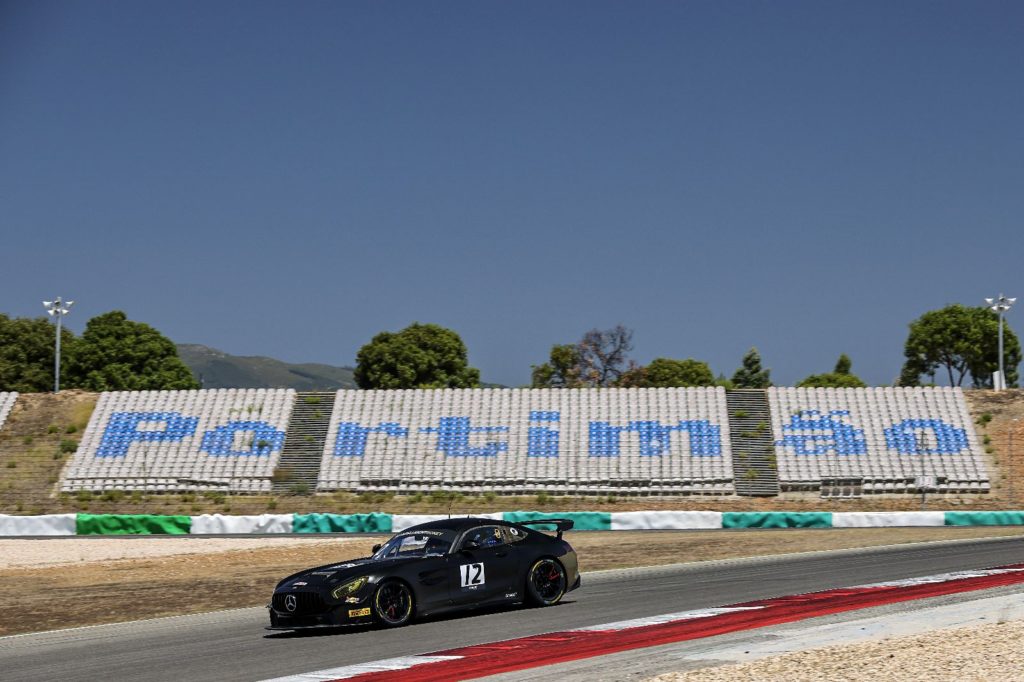 One Motorsport maintained their top five challenge in the GT4 Pro-Am ranks of the Intelligent Money British GT Championship this past weekend (22-23 July) after coming oh-so close to podium glory despite two penalties at the Autodromo do Algarve.
On what was an action-packed three days of sun, sea and supercars for the series' annual away trip – which was taking place in Portugal for the first time – drivers Ed McDermott and Mikey Broadhurst produced a clinical display in a frenetic three-hour contest to finish fourth in class.
Keen to return to the podium after a rollercoaster few rounds, the Brackley-based outfit – armed with their stealth-looking Mercedes-AMG once again – travelled to the sun-kissed Portuguese track optimistic of challenging towards the sharp end of the field.
Fettling their rear-wheel-drive machine during Friday and Saturday's practice sessions, McDermott and Broadhurst both upped the ante when it came to qualifying to clinch sixth in class on the grid for Sunday's 180-minute bout.
With scorching temperatures only adding to the challenges that the 2.890-mile layout presented, the duo made limited progress in the early exchanges as two safety-car periods in the opening half hour nullified the action.
When racing did resume though the Silverstone race winners wasted no time in showing their class. Utilising their combined strengths and strategy from the team on the pit wall – McDermott and Broadhurst soon began to carve their way up the order.
Sitting as high as second in class at one stage, the pair's progress was however stunted by two in-race penalties. After the final round of pit stops, the pair slotted into fourth in class and that was to be the position they held all the way to the chequered flag.
Leaving Portimao, One Motorsport remain fourth in the GT4 Pro-Am Championship standings and ninth on the overall GT4 leaderboard.
Danny Buxton, One Motorsport Team Principal, said: "It really was a case of what could have been for us! Ed and Mikey both drove exceptionally well, especially in the long one-hour stints they both had to endure in the sweltering heat.
"If it hadn't been for the two penalties that we picked up I believe we would've been in contention for an overall podium; that's just the way racing goes though sometimes I guess.
"I was delighted with the One Motorsport crew's level of delivery this weekend; from Sam Cotton our engineer to Martin Wheeler the Crew Chief – it was a well-executed performance and everyone should be proud of themselves."
The Intelligent Money British GT Championship season continues at the world-famous Brands Hatch Grand Prix circuit on the 9-10 September.
---