ONE MOTORSPORT SCORE GT4 PR0-AM PODIUM FINISH ON BRITISH GT DEBUT AT OULTON PARK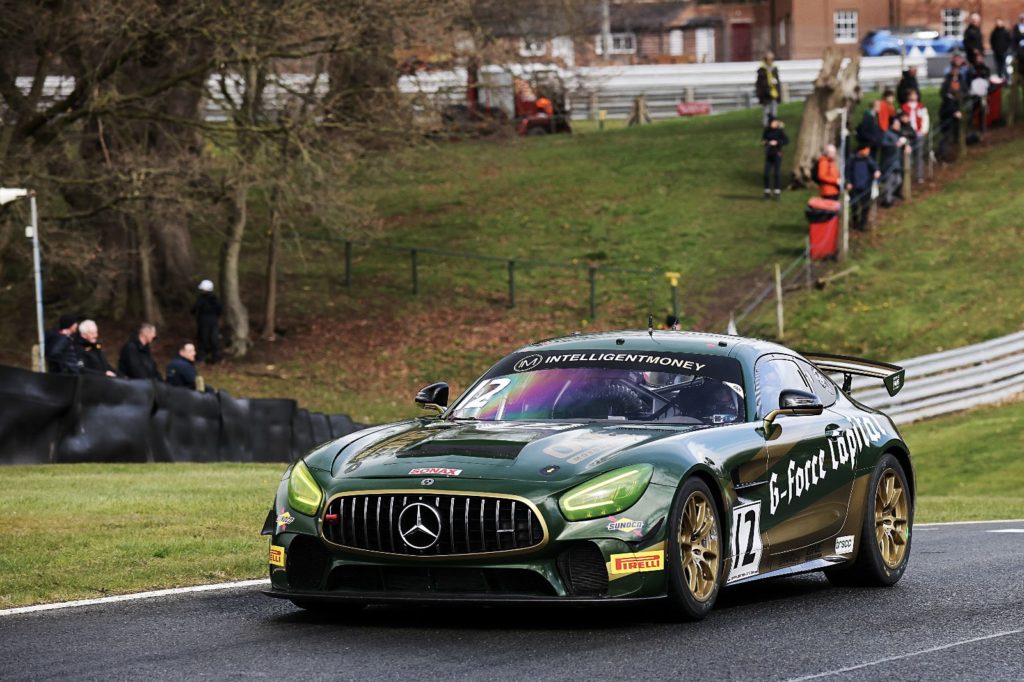 One Motorsport claimed a hard-fought GT4 Pro-Am podium finish on what turned out to be a memorable debut weekend in the Intelligent Money British GT Championship at Oulton Park.
Entering the UK's premier GT category with Ed McDermott and Mikey Broadhurst driving a Mercedes-AMG GT4, the Brackley-based team – formerly named BTC Racing and best known for their BTCC exploits – produced a masterful wet weather performance in race two to clinch second in class.
Basking in the Spring sunshine on Saturday, the duo showed plenty of speed across both free practice sessions before they turned the wick for what proved to be an ultra-competitive qualifying – where they secured a best time of 1:44.571 for seventh on the grid in the GT4 Pro-Am Class.
Race day on Easter Monday would see the team greeted with vastly different weather conditions to that of Saturday, with intermittent heavy rain battering the circuit during both one-hour contests at the Cheshire venue.
Despite being faced with their fair share of BOP (Balance of Performance) challenges, both McDermott and Broadhurst produced superlative drives in the day's opening bout – coming oh-so close to a podium finish.
McDermott would kick off proceedings with a scintillating stint that saw him fight his way up the order; allowing Broadhurst to be firmly in the mix for the Pro-Am rostrum at the time of handing over the car.
Utilising all of his experience, Broadhurst quickly established himself as one of the drivers to watch and had been sitting in third place for a majority of the stint before a late rain shower saw him ultimately slip to fifth.
Keen to bounce back in race two – which was a full wet race – the team showcased their talents with a drive that was perfection personified. This time it was Broadhurst that got things underway and the 34-year-old wasted no time in charging his way through the pack.
Picking his way up the order with a number of eye-catching moves, Broadhurst moved the squad into second place by the time the mandatory pit window opened.
Handing over with less than half hour to go and conditions only worsening, McDermott then underlined his talents behind the wheel by maintaining second place all the way to the finish – giving One Motorsport their maiden piece of silverware in British GT.
Ed McDermott, Driver: "If you had told us earlier in the weekend that we would be on the podium then I'd have bitten your arm off. We haven't had the best BOP so it's a testament to the whole team and Mikey that we're going home with some trophies. We've got an amazing package underneath us and I'm sure over time we can really show everyone even more. I'm really happy and a lot of credit has to go to everyone at One Motorsport, they were faultless!"
Mikey Broadhurst, Driver: "Coming into the weekend I was really hopeful that we could be challenging for big results and at times it didn't look like that was going to be the case. I was disappointed to miss out on the podium in race one but the change of conditions hampered us a little bit. In the full wet the car was amazing, as was Ed. That's the best I've seen him drive and it was his first time doing so in the wet. I'm really happy and this will only set us up for the rest of the season now."
Will Powell, Commercial & Marketing Director: "To come away with a second place finish in the GT4 Pro-Am class on our debut weekend is fantastic. We faced our fair share of challenges but both drivers and the whole team did a great job. We're hungry for more so we'll work hard and push for even more at Silverstone next month."
The Intelligent Money British GT Championship continues its 2023 season at the Home of British Motor Racing, Silverstone, on the 6-7 May.
---