ONE MOTORSPORT WITH STARLINE RACING BRIMMING WITH ENTHUSIASM AHEAD OF THE ULTIMATE TEST OF SPEED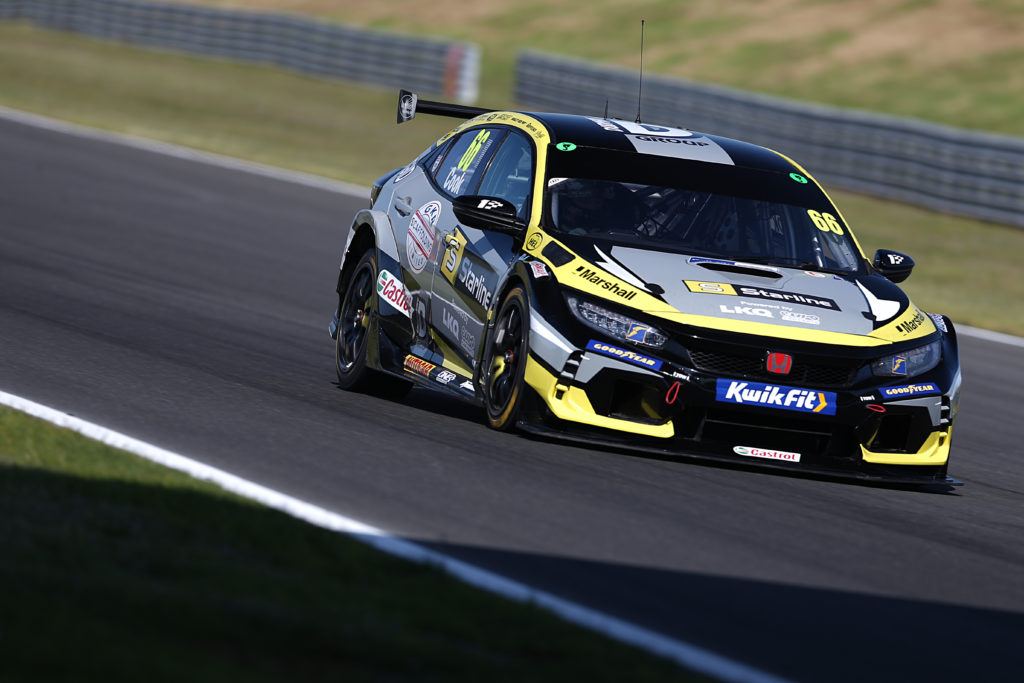 One Motorsport with Starline Racing's trio of drivers is anticipating a successful weekend in the Kwik Fit British Touring Car Championship as the contest prepares to tackle the fastest circuit on the calendar at Thruxton this weekend.

The Hampshire speedbowl sees average lap speeds in excess of 110mph around the challenging 2-35-mile former airfield and it is a track where One Motorsport with Starline Racing ace Josh Cook has had huge success in the past.

The Honda Civic Type R racer has claimed 10 victories at the historic venue, and he has earned the nickname as the King of Thruxton. The Bath racer is fizzing with excitement ahead of the BTCC's return to the track, while team-mates Aiden Moffat and Will Powell are aiming to tap in to Cook's acknowledged expertise this weekend.
The Brackley-based outfit are on the front foot following a successful weekend last time out at Snetterton earlier in May. Cook was a two-time Independents Trophy winner in Norfolk and both he and Moffat registered top 10 finishes in the final race of the day, which has given the entire squad room for some optimism ahead of the fourth meeting of the BTCC campaign.

Cook, who is firmly inside the top 10 in the hunt for this year's overall title, explains that the lessons learned at Snetterton and the upcoming Thruxton layout have put overall race victory on his radar.

He says: "There are a few rival cars out there which are on fire in terms of pace at the moment, but we will concentrate on what we can do. That is all we can do. I know how to get the car working well around Thruxton and we made really good progress at Snetterton.

"If we can take the pace that the One Motorsport with Starline Racing squad managed to engineer into the Honda over the course of the Snetterton weekend forward with us, then we should be on course for our best weekend of 2023 yet.

"I really click with Thruxton and it is no secret that I love it. I don't feel like I do anything unusual or trick to get the most from it because I am not aware of what the others are doing specifically. But even if I did have a special knack, it is not something I am going to share with anyone but my One Motorsport with Starling Racing team-mates…"

Moffat is aiming to capitalise on any advantage that Cook is able to proffer ahead of the event. The Scotsman took two podiums in the Independents' Trophy after a weekend of progress last time out and thinks that the momentum can carry him even further this weekend.

"I am looking forward to Thruxton," says the 26-year-old. "We all know that Josh and the Honda have always been ballistic around Thruxton in the past and that should stand us in good stead.

"I have been finding my feet in a new car and a new team so far this season, and we are certainly moving in the right direction. That is down to the hard work of the whole One Motorsport with Starline team and I walked away from Snetterton in a much better place with my understanding of the Civic and we have made some excellent steps with the set-up of the car.

"When you add in all of those factors, I am very excited about the challenge that lays ahead at Thruxton. It is always a track which rewards bravery and it puts a smile on your face, and I want to be smiling on Sunday night too."

Will Powell scored three solid finishes at Snetterton last time out as he aims to bank more experience in the UK's highest profile tin-top series and he thinks that the equipment underneath him this weekend will give him the perfect platform to build on his knowledge.

The Birmingham-born racer says: "People often assume that Thruxton is a power circuit, because the speeds are so high, but actually it is all about having a sweet-handling chassis though all the sweeping sections. The One Motorsport with Starline Racing Honda Civic certainly has that.

"I had my first BTCC experience of Thruxton last season, which was a bit of a baptism of fire. It will be nice to be going back there with a car I trust and with another year's knowledge behind me.

"We should have a car which works well there from the outset and I am in a great position to learn as much as I can from Josh and Aiden to help me have a solid weekend and bank some points."

Team Principal Danny Buxton said: "We are all looking forward to what will be an exciting weekend. We have made a lot of developments with the car, particularly over the last race weekend at Snetterton, and that has given us a real platform to push forward.

"We have a broader understanding of how our Honda Civic Type Rs react to changes and how to unearth the sweet spot from the car, and we will be able to capitalise on that and reap the rewards. This track is a favourite for Josh with all of his expertise there, and we will aim to make the most of that too."

The three races from Thruxton will be shown on ITV4. The opening encounter is scheduled to get the green flag at 11:30, with race two at 14:35 and the finale at 17:20. Qualifying will be streamed live on itv.com/touringcars and also shown on the ITV Sport YouTube channel at 15:25 on Saturday afternoon.
---