ONE MOTORSPORT WITH STARLINE RACING FULL OF OPTIMISM AHEAD OF BRANDS HATCH CHALLENGE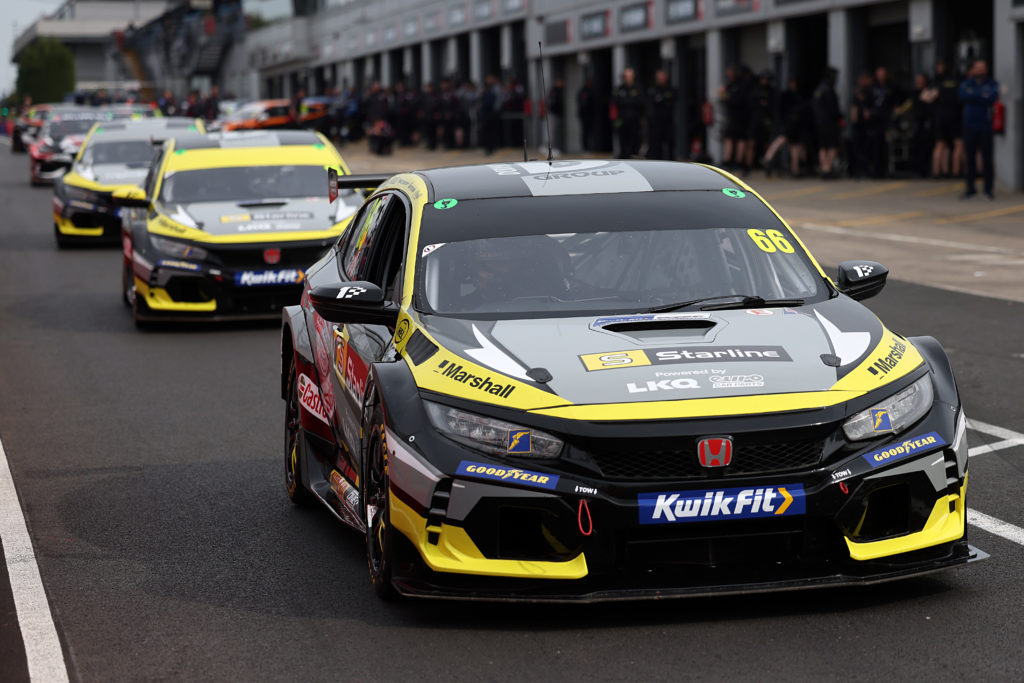 The One Motorsport with Starline Racing drivers are bubbling with enthusiasm ahead of the second meeting of the 2023 Kwik Fit British Touring Car Championship which will take place at the famous Brands Hatch circuit this weekend.
 
Josh Cook, Aiden Moffat and Will Powell will handle the squad's Honda Civic Type Rs for rounds four, five and six of this year's competition. With plenty of learning from the opening rounds of the category at Donington Park in April, the three drivers are ready to put that knowledge into action.
 
Cook scored points in two of the three rounds at Donington and is relishing a return to the Kent venue where he took two victories in the 2022 campaign. 
 
He says: "Brands Hatch is a circuit I enjoy, and we are certainly going there with some big success in our sights. We made some solid progress at Donington with what is effectively a brand new car for me with a new engine, and we have a reference now which is something we can build on.
 
"The One Motorsport with Starline Racing Honda team has been working flat-out in the background to give me the best opportunity they can, and the Indy track is a circuit I have had decent success on, historically. We need to take the momentum we have and put it into practice this weekend. 
 
"As ever in the BTCC, it is about keeping the tally ticking over. If wins aren't on the table, I will be aiming to collect as many points as I can and learn as much as we can. If wins are on the table, then watch me go for it…"
 
Twenty-six-year-old Moffat is another who has visited the top step of the podium at Brands Hatch and he is relishing the next stage of his journey with One Motorsport with Starline Racing. He joined the team for the first time at Donington Park and, like Cook, was in the points on two occasions.
 
He is going into the meeting with a fresh approach. "We have looked at the set-up and have made some changes with the engineers going into this weekend, and I am excited to see how they help the car," says Moffat.
 
"The opening round was a bit of a journey for us all, but we have taken what we learned and are going down a slightly different path. It should improve the car for my driving style and there are areas of Brands Hatch where I think it will be a real benefit.
 
"It is certainly an all-action track because it is so compact, but there are a few secrets that I have up my sleeve and it is going to be interesting to go back there in a front-wheel-drive BTCC car, which is something I haven't done for a few years."
 
Will Powell said he was encouraged by his pace at the maiden meeting of the season despite two non-finishes, one when he was the innocent victim of another out-of-control car. 
 
The Birmingham racer says: "My aim is going to be to maximise all I can from qualifying and then make progress from there. My engineers and I have evaluated the set-up from Donington and I'm comfortable and I will feel more comfortable in the cockpit this weekend, and I obviously have Josh to reference myself against. 
 
"It is great having someone like Josh in the One Motorsport with Starline Racing team with us because there is a benchmark there for me to aim at and we have worked well together. I am going to be closer to him on set-up at Brands and that will give me a great starting point.
 
"Although the results weren't quite what I wanted at Donington, we showed some strong pace and the guys I was battling with in race one made it into the top 10 in race three. That is the way touring cars goes and, for me, it will be about maintaining that progress across the three events."
 
Since the opening rounds at Donington, the Hondas have been back to One Motorsport with Starline Racing's HQ in Brackley and owner Steve Dudman's team has been through the machines with a fine-toothed comb. 
 
Team principal Danny Buxton paid tribute to the work done by the dedicated staff in the two weeks since the curtain-raiser, and he is looking forward to more progress this weekend.
 
"We have learned so much from the running we have done at Donington, and the team has left no stone unturned in preparations for Brands Hatch. They have been fantastic," he says. 
 
"We have built up our relationship with engine tuner Neil Brown too, and we are strengthening our relationship with the new drivers to the team, Will and Aiden, too. We will be in a positive frame of mind going into this second meeting.
 
"Brands is a place where we ran really strongly last season, so we are taking that confidence with us. The weather forecast looks a bit iffy, and we have done a strategy review after the downpour at Donington Park to make us better prepared for all eventualities. 
 
"Given the effort that the team has put in and the relationships that are growing within One Motorsport with Starline Racing, we will very much be on the front foot this weekend."
 
Sunday's three Kwik Fit British Touring Car Championship races will be shown live on ITV4. The opening race of the weekend gets the green light at 11:50, the second is at 14:30 and the finale is scheduled to get going at 17:15. The qualifying session, which takes place at 15:25, will be streamed live on the BTCC youtube channel and also at itv.com/btcc.
---