ONE MOTORSPORT WITH STARLINE RACING SCORE INDEPENDENTS VICTORY AT BRANDS HATCH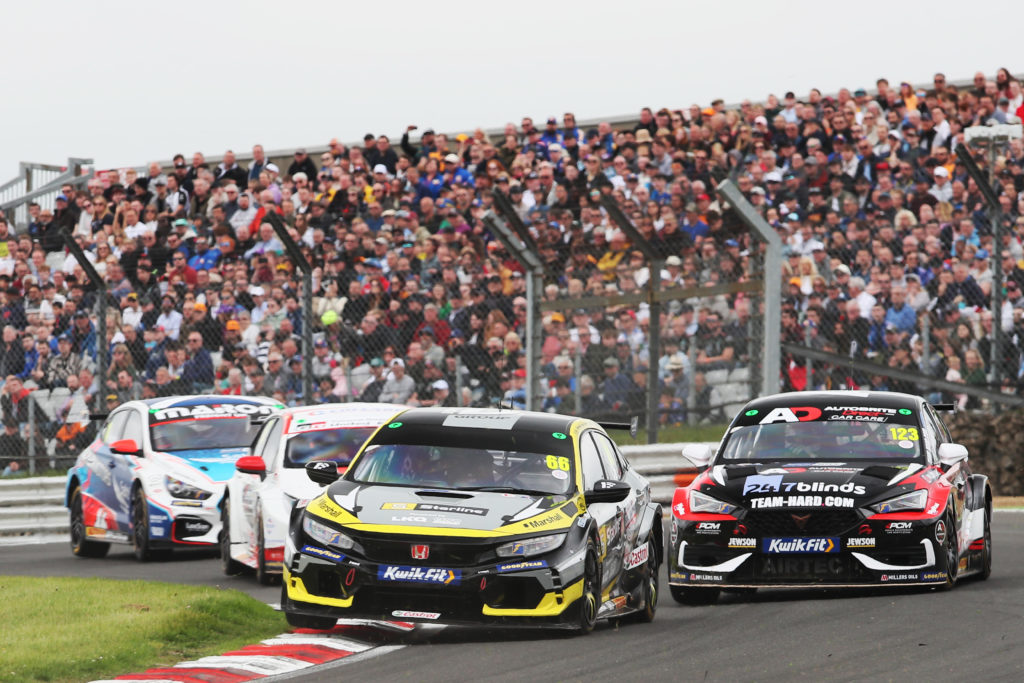 One Motorsport with Starline Racing claimed its first piece Kwik Fit British Touring Car Championship silverware at Brands Hatch last weekend on what was an otherwise challenging second meeting of the season.
Josh Cook charged to a popular Independents Trophy victory in race two at the famous Kent venue, while team-mate Aiden Moffat claimed a brace of hard-fought points finishes. Will Powell, meanwhile, would battle his way forward in all three races to just miss out on a maiden top 15.
After splashing his way to the eighth fastest time in Saturday's qualifying session, Cook held station in a red-flag interrupted dry opening encounter before going on to guide his Honda Civic Type R to the podium in Sunday's second bout.
In the thick of the action throughout the 24-lap contest, the reigning Independents Trophy champion muscled his way into seventh on the final lap to clinch a first class win of 2023. Bolting the soft option tyre on for race three, the 31-year-old then capped off his weekend with another top 10 drive.
"It's great to have been able to claim a first Independents Trophy win however what we really want is to be standing on that top step of the podium," he admitted. "This weekend had its challenges but we made the best of it and came away with some solid points and silverware.
"We're still gaining an understanding of this chassis and engine package, but improvements are being made by the team all the time. We'll keep our heads down and continue to chip away ahead of Snetterton in two weeks' time."
Moffat lined up on the 11th row of the grid for the weekend's first race but wasted no time in fighting his way forward as he produced a number of eye-catching overtakes on his way to 13th at the chequered flag.
The Scotsman then found himself the innocent victim of several bouts of contact from rival drivers in a frenetic race two which dropped him down the order, before regrouping in the weekend's finale to fight back up to 12th.
"I was relatively happy with how we ended the weekend as I felt we made some really good improvements to the car," said the multiple race winner. "Problem is when you're in the pack you become a bit of a pinball and that's what happened in race two, which dropped us back after a solid race one.
"We know that it's going to take us a little while to get to where we need to be but everyone at One Motorsport with Starline Racing is working hard to ensure that happens as soon as possible and I'm confident we're not far away now!"
Boost issues would hamper Powell throughout the weekend but that wouldn't stop him from a strong showing as he made progress in all three races to just miss out on what would have been a maiden points-paying finish.
"There are certainly more positives then negatives to take away from the weekend," admitted Powell. "We had boost gremlins throughout Saturday and Sunday and that pretty much prevented me from what could have been a top 15 finish. I'm optimistic that we can make another step forward at Snetterton."
Team owner Steve Dudman acknowledged it had been a tough weekend for the squad but added that the motivation was high within the team to learn the lessons that had been learned at Brands Hatch. "I have to say a huge thank you to the staff, who worked tirelessly over the course of the three races, and to our partners Starline for their continued support.
"The results were not what we aimed for, but we are learning our way with chassis that are new to us and we are finding out new directions and new tricks in every session and in every race," he said. "We have an action plan in place to address areas we want to focus on ahead of Snetterton in two weeks' time, and the dedication to reach the front with this crew is unmatched."
The next rounds of the Kwik Fit British Touring Car Championship take place on the Snetterton's 300 circuit in Norfolk on the May 20-21.
---